Civil Rights Institute Birmingham Alabama- An Important History Lesson
It was my privilege and honor to visit Birmingham, Alabama as one of those "Everything Happen For A Reason" things. Having been invited at the last second to join a FAM trip with several TBEX bloggers, I now realize that this was a meaningful adventure that was meant to be.
Fellow Bloggers on the journey around Birmingham included:
Civil Rights Institute Birmingham Alabama- Important History Lesson
During our visit to the Civil Rights Institute, our impassioned Tour Guide Barry McNealy, spelled out in black and white (no pun), what daily life was like in Alabama, from the late 1800's up until present day.
It wasn't pretty.
Alabama was known for it's demoralizing segregation and horrific treatment of Black Americans, but today's Alabama is much more tolerant and diverse.
Please click on video to see Barry in action, and to learn more about the Civil Rights Institute in Birmingham.

As recently as the 1960's, Black men, women and children were forced to separate themselves from whites who were deemed "better" than anyone born with skin darker than a paper bag.
Please re-read that last sentence.
This period of Segregation in American History is one of the most offensive things I have ever learned about, but viewing this exhibit just enforces my belief in EQUALITY FOR ALL, and inspires me to continue voicing my opinions as loudly as possible, every single day.
I implore you to take a trip to Alabama, to learn about how white Americans disgracefully treated our African-American Brothers and Sisters.
NEVER FORGET
My little Snapchat story is just a teeny snippet of what you will learn about the Civil Rights Movement in Alabama, and if it gets you to open your eyes just a bit, I will be happy.
There is a LOT more to see and learn about, so please check out the website and apps on Travel Alabama.
Do yourself a favor and visit Alabama. There is so much to learn…and the food is awesome too!
Download the free Alabama Civil Rights Trail app today to get started on your educational journey.
Trace the struggle for equality – and the progress – with this free official app for iPhone and Android.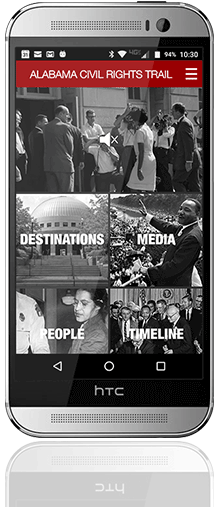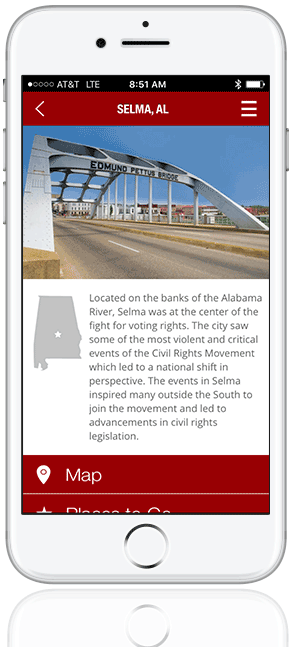 Walk in the footsteps of the Civil Rights Movement by exploring the people, places and events that brought Alabama into the international spotlight and changed the course of history.
Discover civil rights landmarks across the state
Plan your visit to Birmingham, Montgomery, Selma, Tuskegee and other cities that were pivotal in the Civil Rights Movement
View maps of civil rights destinations within each featured city
Explore an interactive timeline that takes you through the struggle for equality, from Jim Crow and mob violence to desegregation and the Civil Rights Act
Browse biographies of famous figures like Rosa Parks and Martin Luther King Jr., then learn where you can visit to relive their legacies
Play multi-media excerpts the sights, sounds, and voices of the Civil Rights Movement
DOWNLOAD ON THE APP STORE | GET IT ON GOOGLE PLAY
Stay tuned for more of my travel adventures in Alabama and all over the world.
Please subscribe to my blog and YouTube Channel to stay in the loop.